---
Buy in the next
for estimated delivery on
---
$0.00 exc. VAT
$8.25 exc. VAT
---
Sorry we're out of stock!
We can let you know when it's available again, just enter your email address below.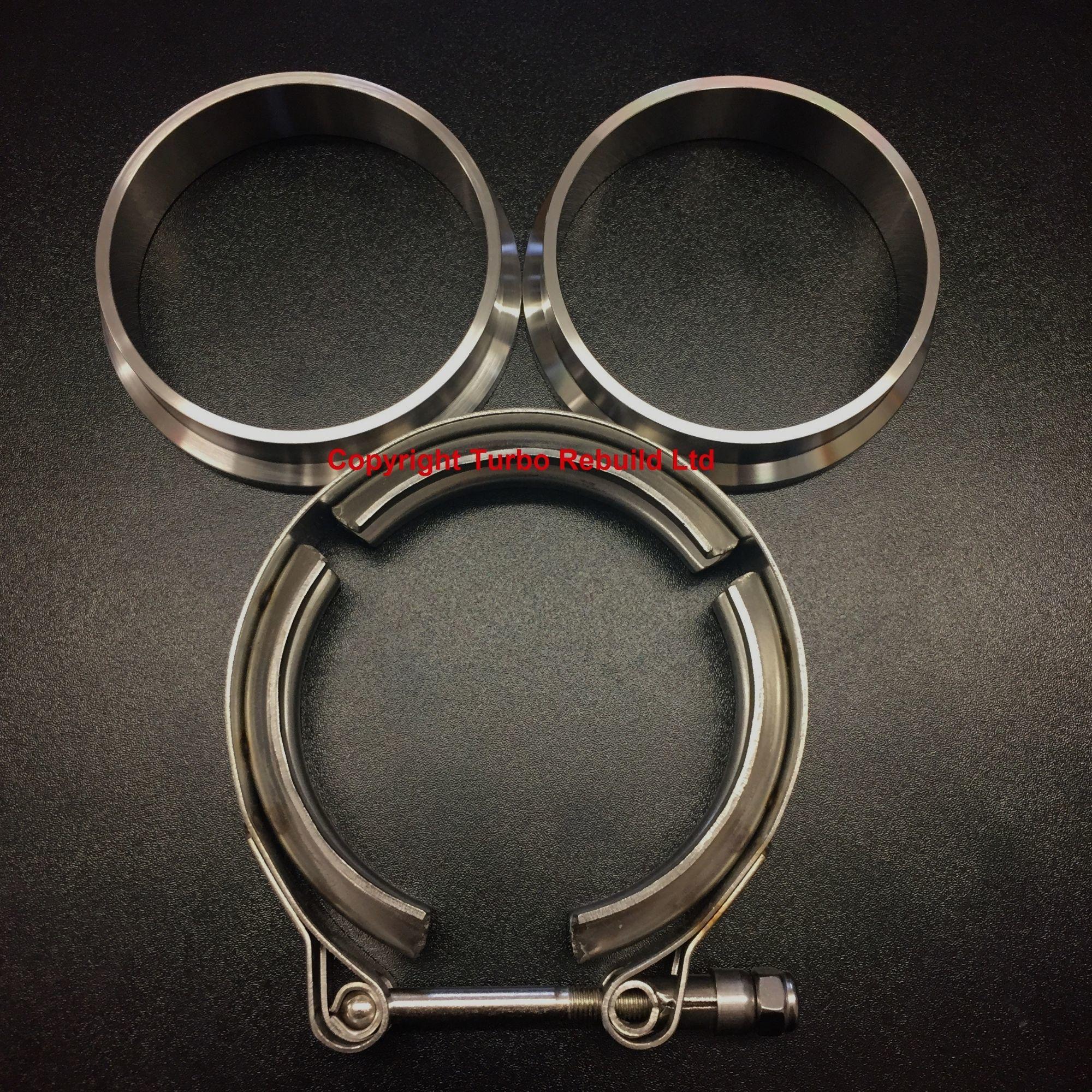 Turbocharger V-Band Clamp & Flange Set (Stainless Steel)
Description

Specification:

Heavy Duty Stainless Steel with M6 zinc-coated mild steel threaded, inc zinc nylock nut.

Torque Rating: 5NM

Sizes: Sizes range from 2" to 4" (see drop down menu)

 

Contents:

2 x Flange 

1 x Clamp

 

NOTE: V AND CLAMPS ARE MEASURED FROM THE EXHAUST ID.

I.E. IF YOUR EXHAUST ID IS 2", YOU NEED A 2" CLAMP.

 

CORRECT TIGHTENING OF YOUR V BAND CLAMP


Correct fitting of a V-band clamp is vital for correct operation and to ensure you do not suffer premature failure.


V-band clamps are NOT tightened excessively. They are designed to pinch the mating flanges together whilst allowing movement through expansion and vibration. Over tightening can damage clamps, flanges and in worst case pipe work. 

To mount your V-band clamp, butt mating flanges together and fit clamp. Tighten clamp to a torque setting of 3.5 Newton Metres (NM). Then using a rubber mallet, tap around the mating flanges to allow the joints to fully centre and sit without any unequal load. Then increase torque to its final torque setting of 5 Newton Metres (NM).

Further tapping with a rubber mallet to removing any uneven load from the clamp or flange is beneficial whilst checking the torque setting stays at its rating of 5 Newton Metres (NM).

 

Average dispatch: 24 Hours

**PHOTO FOR ILLUSTRATION PURPOSES ONLY**

THE USE OF MANUFACTURERS NAMES, PART NUMBERS AND SYMBOLS ARE FOR THE USE OF REFERENCING ONLY AND DO NOT IMPLY THE PART IS MADE BY THE SAID MANUFACTURER.

ALTHOUGH WE MAKE OUR GREATEST EFFORTS TO ENSURE ALL OUR TURBO PRODUCTS ARE DESCRIBED CORRECTLY INCLUDING FITMENT INFORMATION AND DIMENSIONAL REFERENCES, WE CANNOT GUARANTEE THESE TO BE CORRECT AS MISTAKES CAN HAPPEN. WE WILL NOT BE HELD FOR ANY DISCREPANCIES DISPLAYED.