---
Buy in the next
for estimated delivery on
---
$0.00 exc. VAT
$168.48 exc. VAT
---
Sorry we're out of stock!
We can let you know when it's available again, just enter your email address below.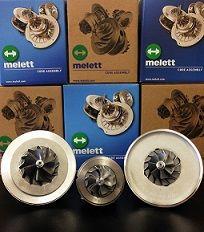 Genuine Melett UK Turbo CHRA Garrett GTC1446VMZ 803955, 03L253014AV351
Description

MAKE:            AFTERMARKET

QUALITY :      OE

CONDITION:  NEW BOXED

OE PART No: UNKNOWN

 

THIS UNIT FITS THE FOLLOWING TURBOS:

803955-0003

803955-0005


VEHICLES COMMONLY FITTED WITH THESE TURBOCHARGERS INCLUDE:

Volkswagen Crafter 2.0

Volkswagen Crafter 28 2.0 TDi/ TDi BlueMotion 

Volkswagen Crafter 30 2.0 TDi/ TDi BlueMotion 

Volkswagen Crafter 32 2.0 TDi/ TDi BlueMotion 

Volkswagen Crafter 35 2.0 TDi/ TDi BlueMotion 

Volkswagen Crafter 46 2.0 TDi/ TDi BlueMotion 

Volkswagen Crafter 50 2.0 TDi/ TDi BlueMotion 

 

VEHICLE OE NO:

03L253014AV300, 03L253014AV351

 

ENGINE CODE:

CKTB, CKTC

 

OTHER RELEVANT NUMBERS:

803955-3, 803955-5003, 803955-5003S

803955-5, 803955-5005, 803955-5005S


 

This Melett turbocharger CHRA is one of the highest quality cartridges on the market today.

All our turbo cartridges begin life in component form made from the highest quality materials available. All individual parts are precision balanced and finished prior to being assembled with high quality bearings and seals. Once this is complete, it is high-speed trim balanced (or VSR balanced as also known) to ensure that not only is it within OE specification for vibration, but also that is not noisy and there are no oil leaks. To complete the process, all data is stored and the unit given its own serial number before a detailed calibration certificate is printed for your own peace of mind (sent on request).

Any units that are known to be damaged from common engine issues come complete with 'Vital Instructions' of work that must be done to the engine prior to fitting, and all units also include a fitting recommendation sheet to ensure you have many years of hassle free motoring.

Melett turbocharger CHRA/cartridges come with 12 months warranty against faulty parts and poor workmanship.

On variable vane units, we advise the nozzle ring is calibrated to ensure correct running.

All turbocharger manufacturers names, logos and part numbers are for identification purposes and cross referencing only and do not imply the part is a genuine part made by said manufacturer unless specifically stated.  Although we make every effort to ensure all information is correct, we cannot be held responsible for errors and advise you ensure part is correct for your needs.