Add To Your Wishlist
Genuine Melett UK Turbo CHRA Garrett GT1544V 706287-0990 Citroen Ford Mazda Mini Peugeot Volvo
---
Buy in the next
for estimated delivery on
---
$0.00 exc. VAT
$148.89 exc. VAT
---
Sorry we're out of stock!
We can let you know when it's available again, just enter your email address below.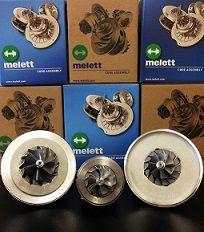 Genuine Melett UK Turbo CHRA Garrett GT1544V 706287-0990 Citroen Ford Mazda Mini Peugeot Volvo
Description

MAKE:            AFTERMARKET

QUALITY :      OE

CONDITION:  NEW BOXED

OE PART No: 706287-0990

 

THIS UNIT FITS THE FOLLOWING TURBOS:

740821-0001

740821-0002

750030-0001

750030-0002

753420-0002

753420-0003

753420-0004

753420-0005

753420-0006

762328-0001

762328-0002

762328-0003

 

VEHICLES COMMONLY FITTED WITH THESE TURBOCHARGERS INCLUDE:

Citroen        Berlingo

Citroen        C2

Citroen        C3

Citroen        C4

Citroen        C5

Citroen        Picasso

Citroen        Xsara Picasso

Ford            C-Max

Ford            Focus

Ford            Fusion

Ford            Mondeo

Mazda         3

Mini             Cooper

Peugeot     1007

Peugeot      206

Peugeot      207

Peugeot      3008

Peugeot      307

Peugeot      308

Peugeot      407

Peugeot      5008

Volvo           V50

Volvo           S40

 

PLEASE NOTE: THIS CHRA IS SOLD WITHOUT WARRANTY

The 1.6 engine suffers issues with carbon build-up and, without a full strip down of engine and clean, it is nearly impossible to remove the carbon build up. Should this dislodge, it will block the oil feed to the turbocharger and result in a repeat failure. At the very least, the below engine work MUST be completed.

· TURBO OIL FEED PIPE & BANJO BOLTS MUST BE CHANGED WITH LATEST REPLACEMENT FROM DEALER.

· OIL PUMP SHOULD BE REMOVED AND CHECKED.

· SUMP MUST BE REMOVED AND OIL STRAINER (PICK UP) SHOULD BE CLEANED / REPLACED BEFORE RE-FITTING NEW TURBO TO REMOVE RESIDUAL CARBON/SLUDGE BUILD UP.

· OIL COOLER AND FILTER ASSEMBLY SHOULD BE REMOVED AND CLEANED.

· REMOVE CHARGE AIR COOLER, DRAIN OFF ANY OIL INSIDE AND CLEAN THOROUGHLY.

· CHECK AND CLEAN ALL INLET AND OUTLET HOSES.

. IF CRANK CASE PRESSURE IS PRESENT IN BREATHER PIPES OR/AND IN ROCKER/CAM COVER (NOTICABLE WHEN REMOVING OIL FILLER CAP WITH ENGINE RUNNING) DPF FILTER MUST BE EXAMINED FOR BLOCKAGE *

· IF OIL HAS LEAKED FROM PREVIOUSLY DAMAGED TURBO OR ENGINE INTO EXHAUST, CHECK EXHAUST SYSTEM FOR CONTAMINATION/BLOCKAGE (CATALYST, DPF etc.)

· REMOVE BRAKE VACUUM PUMP TO CHECK FOR DEBRIS/CARBON AND CLEAN AS NECESSARY.

· FIT NEW OIL FILTER AND OIL.

· CHECK FUEL INJECTOR GASKETS ARE NOT BURNT OR COMPROMISED. REPLACE AS NECESSARY

OIL FLOW MUST BE CHECKED:
1)FIT TURBO TO ENGINE LEAVING OIL RETURN PIPE OFF
2)INSTALL A LONGER OIL RETURN LINE AND FEED INTO SUITABLE CONTAINER
3)START ENGINE AND IDLE FOR 60 SECONDS, THEN SWITCH OFF ENGINE
4)MEASURE VOLUME OF OIL IN CONTAINER
5)60 SECONDS OF IDLE SHOULD PRODUCE AT LEAST 0.3 LITRES OF OIL.
6) REPEAT TEST TWO OR THREE TIMES TO CONFIRM OIL FLOW IS CORRECT
7) DURING THIS TEST, DO NOT ALLOW ENGINE TO RUN BELOW MINIMUM OIL LEVEL!!
8) VEHICLE SHOULD BE DRIVEN 20 to 30 MILES THEN THE OIL/FILTER REPLACED AGAIN. 

Even after all the above has been carried out we cannot guarantee all carbon/oil sludge will be removed and you could still suffer a premature turbo failure. In the event of premature failure it is common for the impeller/nose nut to "come off", this is a consequence of a lubrication/turbine shaft failure & NOT a cause of turbo failure.

We feel that due to the possibility of further turbo failures on this engine it is only right to inform you before you fit a replacement turbo. Currently, we are experiencing a 15% failure rate of units we supply for this engine. Please feel free to speak to our engineers or sales team if you would like to discuss this issue further.

We would also like to assure you that this is the only engine we have experienced these failure rates with. We, as a company, will always inform you of any ongoing issues to allow you to make the right judgement call for what you deem correct for your business.

 

NOTES:

*The 1.6TDCi 16v model with the Diesel Particulate Filter is prone to problems such as injectors failing, turbocharger failing and engine oil contamination. This is mainly due to the Diesel Particulate Filter (DPF) getting blocked up. When the DPF blocks up, it causes back-pressure to push carbon back up in to the turbocharger, engine and other components such as the diesel injectors. They then become carbonated and the oil becomes contaminated. Symptoms of this issue is heavy carbon deposits in oil, high crank case pressure in cam cover, breathers, dip stick tube etc.

Please note: although the DPF filter utilises a warning lamp on the dashboard, there have been many cases where such light has not illuminated!

 

This Melett turbocharger CHRA is one of the highest quality cartridges on the market today.

All our turbo cartridges begin life in component form made from the highest quality materials available. All individual parts are precision balanced and finished prior to being assembled with high quality bearings and seals. Once this is complete, it is high-speed trim balanced (or VSR balanced as also known) to ensure that not only is it within OE specification for vibration, but also that is not noisy and there are no oil leaks. To complete the process, all data is stored and the unit given its own serial number before a detailed calibration certificate is printed for your own peace of mind (sent on request).

Any units that are known to be damaged from common engine issues come complete with 'Vital Instructions' of work that must be done to the engine prior to fitting, and all units also include a fitting recommendation sheet to ensure you have many years of hassle free motoring.

On variable vane units, we advise the nozzle ring is calibrated to ensure correct running.

All turbocharger manufacturers names, logos and part numbers are for identification purposes and cross referencing only and do not imply the part is a genuine part made by said manufacturer unless specifically stated.  Although we make every effort to ensure all information is correct, we cannot be held responsible for errors and advise you ensure part is correct for your needs.