Garrett Turbochargers (Honeywell)
The Garrett range of units come in different guises. The older "T Series", like the T3, have a place fixed to the unit with the part number on, but nowadays these tend to have been removed, so identifying can be a little difficult.
The newer "GT Series" are much easier to identify. In most instances, the alloy inlet compressor housing has a section that has been machined flat (in a rectangular shape) with various numbers engraved. The number we are looking for is labelled as the "serial" number or "SN"
The Serial Number on the GT units is a 6 digit number starting with a 4 or a 7 followed by a -. For example: 724930-5009S.
This number gives access for our search engine to search through our complex database and will bring results for this unit. To improve search further, simply add just the initial 6 digits EG. 724930.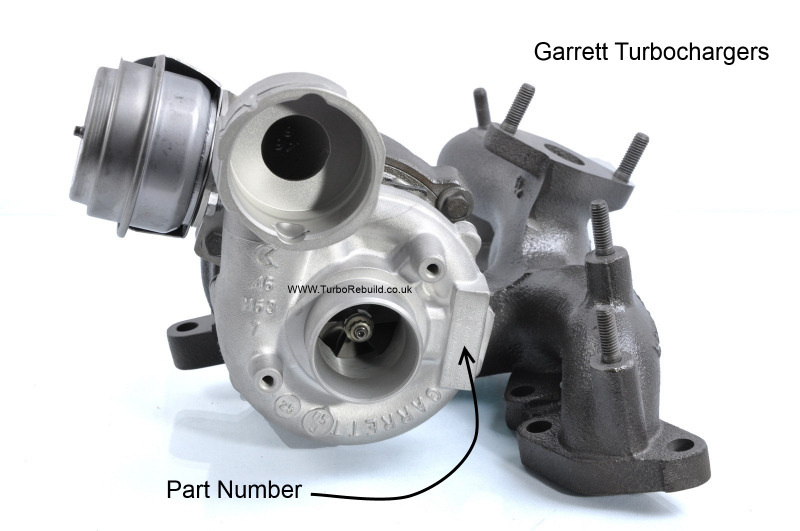 KKK Turbochargers (BorgWarner / 3K)
The KKK family have many differing models and frames of unit.
The common "K Series" "KP Series" and "BV Series" use more or less the same identity plates. These plates are attached to the compressor housing and are a square tag. This tag can be yellow, green, blue or even silver and will have a few lines of numbers.
The main number we are looking for will start with a 5 and will be a block of 4 digits followed by a dash (-) three more digits then another dash (-) and finally 4 more digits. As an example: 5304-970-0049. The 970 could also be a 988 which is a slightly different referencing style, so for our database, please ensure the middle three digits are 970.
In some circumstances this number isnt present. If not, there is usually in its place a group of numbers and letters, starting with a 0, for example 03G145701G. This referencing style is also part of our search database.
Please Note: Similar numbers cast into the compressor housing are not the units part number and do not show up in the search engine.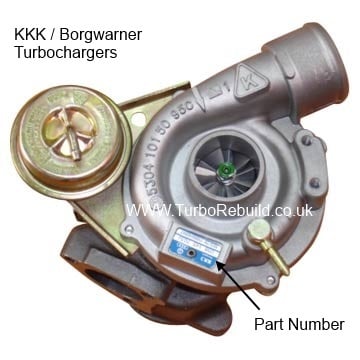 The Mitsubishi units are, in most instances, identified by numbers engraved into the flat machined face in the alloy inlet compressor housing.
Most units are 5 digits, starting with a 4 followed by a dash (-) then 5 more digits. For example: 49135-05620.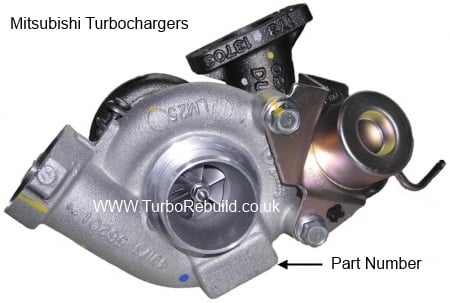 The IHI brand have a few different ways or identification. The recent units use an identity plate which is part of the compressor housing.
The number required of this manufacturer is usually a short group of digits, for example: VJ32.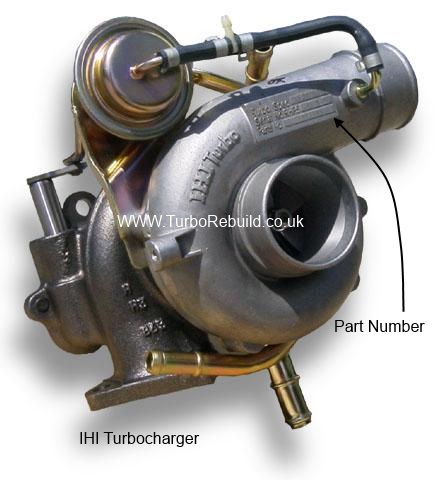 Toyota can be very confusing indeed to identify, with some units not even carrying any ID plates at all.
A good number to look for on these units are the 5 digit number cast as part of the turbine housing. For example: 54060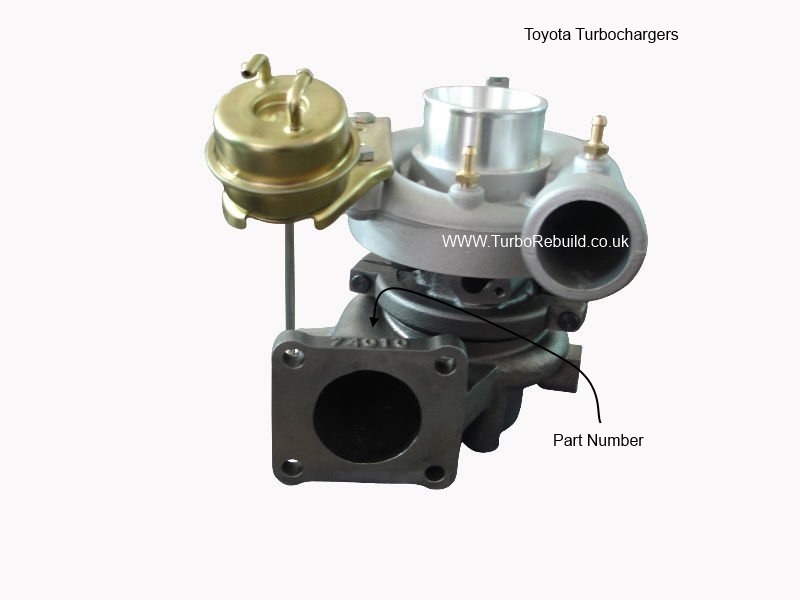 Finding the above part numbers will greatly reduce the difficultly in finding the product you require. However, if you are struggling, we are able to find most vehicles units of the vehicle Reg number. Feel free to call or email us with you vehicle details and we will assist in any way we can.