Add To Your Wishlist
Enhanced Turbo Audi Seat VW VAG 2.0l TFSI K04-0064 Hybrid Turbocharger CHRA Cartridge (7/7 Blade Anti-Surge)
---
Buy in the next
for estimated delivery on
---
$0.00 exc. VAT
$316.02 exc. VAT
---
Sorry we're out of stock!
We can let you know when it's available again, just enter your email address below.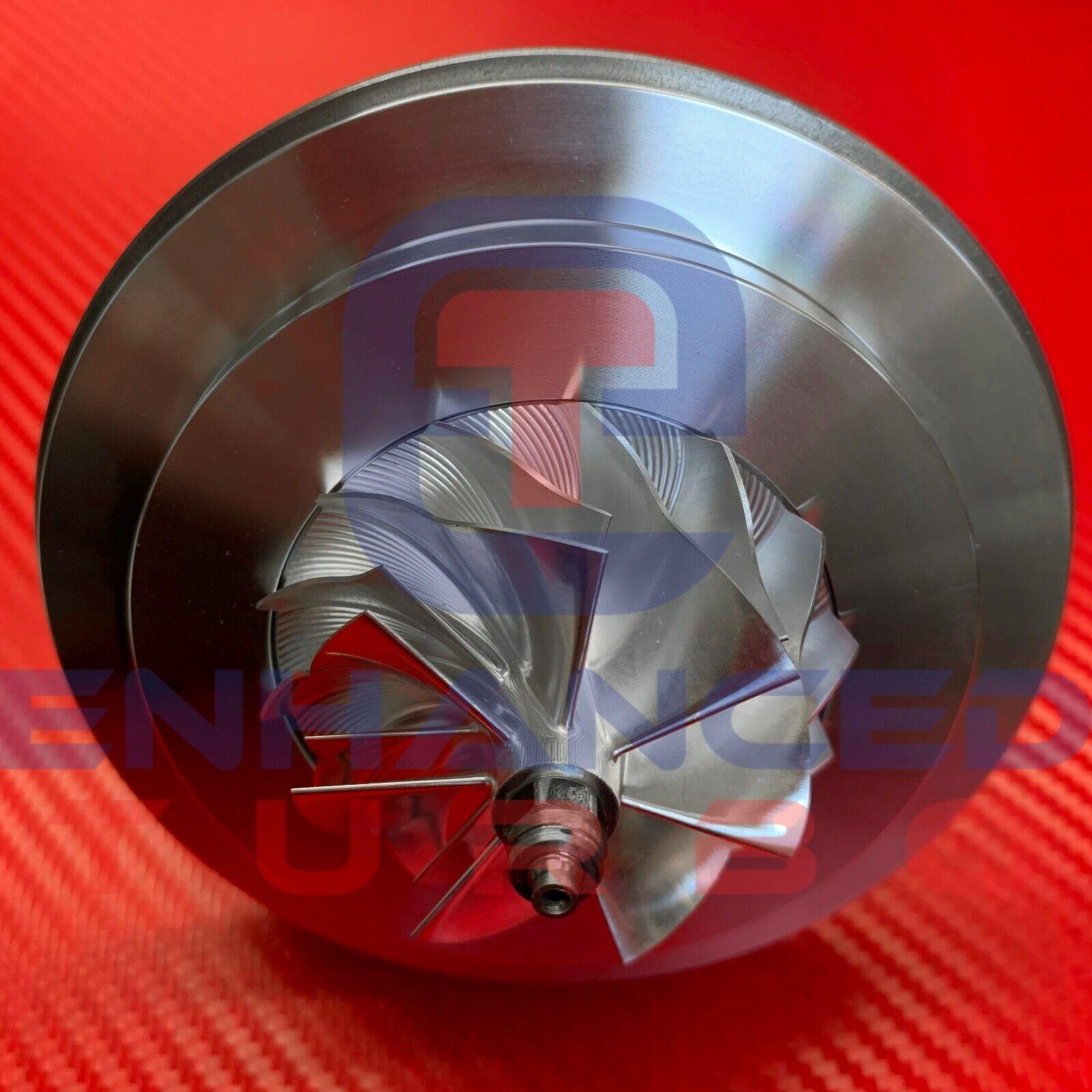 Enhanced Turbo Audi Seat VW VAG 2.0l TFSI K04-0064 Hybrid Turbocharger CHRA Cartridge (7/7 Blade Anti-Surge)
Description

This Buy It Now listing is for a BRAND NEW enhanced turbocharger CHRA to fit the following turbocharger:

OE PART No: 5304-710-0518 53047100518

THIS UNIT FITS THE FOLLOWING TURBOS:

5304-970-0064 (53049700064, 5304-980-0064, 53049800064, 5304-988-0064, 53049880064, 53049980064, 53049980064)

5304-970-0191 (53049700191, 5304-980-0191, 53049800191, 5304-988-0191, 53049880191, 53049980191, 53049980191)

K04-0064 K04-064

K04-0191 K04-191

VEHICLES COMMONLY FITTED WITH THESE TURBOCHARGERS INCLUDE:

Audi A3

Audi S3

Audi TT

Seat Leon

Volkswagen Golf

Volskwagen Scirocco

ENGINE CODE:

BHZ

BWJ

BYD

BZC

CDLA

CDLB

CDLC

CDLD

CDLF

CDLG

CDLH

CDLK

CDMA


VEHICLE OE NUMBER:

06F145702C

06F145702CX

Contents:

1 x Enhanced CHRA

2 x Copper Oil Feed Washer

4 x Copper Water Washer


1 x Oil Drain Gasket

1 x Compressor Housing O Ring


1 x Oil Syringe

1 x High Speed VSR Balancing Certificate

1 x Enhanced Turbo Sticker

This Turbo CHRA is built and fully high-speed balanced in the UK in our own production facility by professional turbocharger engineers and is our ULTIMATE specification.

Specification:

Specification:

Spec: ULTIMATE

New, Uprated, lightweight ULTIMATE Billet Compressor Wheel. Our Upgrade Billet Compressor Wheels are designed for performance use and enhance the airflow of the unit thanks to Increased Inducer Efficiency and Extended Exducer technology. Manufacturing this wheel from solid billet alloy via a computer controlled 5 axis CNC milling machine allows us to machine blades to the tightest of tolerances, reducing weight over the original wheel  and reducing spool times by up to 500rpm.

New Lightweight Performance Billet Compressor Wheel with Anti Surge 7/7 Blade Configuration, Increased Inducer Efficiency (IIE) and Extended Exducer Technology (EET)

New OE spec Seal Plate

New OE spec Bearing Housing

New OE spec Heat Shield

New High Flow 9 Blade Increased Height Turbine Shaft and Wheel

New Heavy Duty Bearing pack

Upgraded 360 Race Thrust Bearing

Upgraded Race Thrust Collar

Upgraded Total Closure Oil Seal Piston Ring

Heavy Duty Journal Bearing

Reverse Thread Shaft Nut

High boost multi-stage precision balance.

12 Months Parts & Labour Warranty

 

FITMENT: Direct fit to original housings, no machining required, no modifications.

PERFORMANCE INCREASE:Power = 10%  Strength approx 20%

OTHER REQUIRED MODIFICATIONS: Fuelling check is required with adjustment where required. Unit will replace original standard turbocharger CHRA, although to maximise performance, upgraded breathing modifications are recommended (filter, exhaust, cooler etc).

*rated power is based on 100% reliability. Although more power could be found by increase boost pressure, doing so will begin to affect reliability.

Following fitment and remapping of an Enhanced Turbo, if your Dyno run power figure tops our leaderboard, then we will refund £50 from your order! Simply send us a copy of your Dyno run, a spec of the vehicle and a picture, and we will show the world your pride and joy.

If you want your turbo enhancing by the professionals, see below on how to purchase a CHRA Assembly Bolt On to your CHRA

Turbo CHRA Fitting add-on includes: failure analysis before full strip-down of supplied unit, professional cleaning of housings and actuator, fitment of Enhanced Turbo CHRA and boost calibration and postage back to you. Note: all parts being reused MUST be in a good working condition. Any repair work or replacement parts required will incur further costs which will be discussed as required with customer.

Alternatively, contact us for a brand new, genuine OE Turbocharger enhanced to this specification, priced at £1285 including VAT and delivery.

Turbo Rebuild are the professionals in the enhancement of production Turbochargers.

Since the millennium, our experience in the repair of failed turbochargers, combined with the continuous development of power upgrades, remaps and easy access to rolling road Dynos, we have found many turbochargers simply cannot handle the performance that the engine requires.

So what is an enhanced turbocharger? Do you mean a hybrid Turbocharger?

Well, it's a yes and no. An enhanced turbo is a unit that has been improved to provide maximum performance without compromising reliability. This in itself is indeed a hybrid turbocharger by definition, in that the turbocharger has been modified and upgraded. However, an enhanced turbo isn't a full on fire-breathing hybrid turbocharger with enlarged wheels etc. If you're chasing figures, then an enhanced turbo is not for you.

An enhanced turbo maximises the potential of the OE Turbocharger and is ideally suited to applications where the vehicle has been tuned or remapped.

So what do you actually offer?

Turbo Rebuild can offer complete, brand new, enhanced turbochargers and also many enhanced Turbo CHRA. Typically these come in 2 forms: Remap and Race

REMAP

Our Remap units are turbochargers that are enhanced to provide 100% reliability in applications where the vehicle has been remapped. These units require no remapping after fitting; they are 100% plug and play. Each Remap Enhanced Turbo is meticulously built by hand by one of our own time-served, professional turbocharger technicians. Specifications of the Remap range vary on each application, with typical upgrades including upgrade 360 race bearings, total closure oil seal piston rings and performance high-speed precision balancing.

RACE

Our Race units are turbochargers that are further enhanced to maximise the original turbocharger's possible performance whilst ensuring 100% reliability. Our Race units will, in most cases, require a fuelling check with some minor adjustments possible to ensure both reliability and to maximise the performance. Most of our Race units flow over 10% more power than the original, faster spool and are more reliable than the original.

We can also offer bespoke products depending on customer requirements.

The development in our enhanced units has been extensive and time consuming, but we are confident that we offer the No. 1 solution for remapped vehicles to fix what is the weak point...

Are these turbochargers good quality? 

This is the most asked question we get! All enhanced turbochargers start life as a genuine OE Turbocharger. This ensures the best possible starting point for quality. From here, we carefully disassemble the turbocharger, and upgrade the units with our performance-proven products. The final creation is then precision high-speed balanced on one of our own in-house VSR balancing machines to far tighter tolerances than the original turbocharger, which ensures maximum reliability. Each unit is also extensively tested for oil leaks, vibrations, excessive noise and spool ramp before dispatch.

All CHRA are built in-house by our own professional turbo technicians using OE quality aftermarket parts where OE is not available. Our component suppliers follow strict requirements for our products which include heat treating, complete finishing of all casting components, and drag reduction polishing of bearing faced components to reduce friction. All units are balanced in up to 3 stages to ensure the best possible balance, operation and reliability. Every single unit is quality controlled at multiple points in the production stage; we feel you cannot buy a better product, which is why we offer the following warranty. 

12 months unlimited mileage parts and labour warranty (CHRA only - does not cover ancilliary costs).

Free extended 2 year parts warranty!*

*Extended parts warranty covers any turbocharger internal component which has failed due to incorrect assembly or faulty component. Warranty does not cover damage caused by oil contamination, starvation, foreign object damage, using unit outside operating limits or damage caused due to damaged or faulty engine components.

 Free extended parts warranty to be undertaken solely by Turbo Rebuild.

Unit must not be disassembled in any way before returned to Turbo Rebuild.

A one-off labour charge of £100 plus VAT is applicable to all repairs.