Turbo Electronic Actuator Repair & Testing
The latest method of turbocharger boost control on many of the manufacturers units is via Electronic Turbo Actuator.
Electronic Turbo Actuators are currently the most accurate type of turbocharger boost control and as they are controlled by the engine's ECU, it means that adjustments can be made in tiny increments at any given turbo boost pressure, in any given situation.
The use of the Electronic Turbo Actuator means improved turbo spool up times and increased efficiency, resulting in more power and better fuel economy.
By introducing another electronic control component into already a highly sophisticated system, there are bound to be downsides... in this case, it is faulty turbo Electronic Actuators.
As part of many Turbo Manufacturers "No Repair Policy", if you have a faulty Electronic Turbo Actuator, it would mean you would have to replace the complete Turbocharger as the Turbo Actuator itself will not be available on its own. As you can imagine, this is going to be an expensive repair, but we can offer a solution!
We are able to offer not only Electronic Turbo Actuator testing, but also Electronic Actuator reconditioning to many of the Electronic Actuators on the current range of turbochargers.
Our Turbo Electronic Actuator testing service involves us running your turbocharger's Actuator on our test bed to ensure the Actuator works efficiently without error and that it can reach its full working parameters. All units are delicately cleaned internally to ensure all electrical components are free of dirt which can affect the unit's ability to process information received and also to ensure all moving components are damage free.
We then pack and return to the address of your choice for only £30 inc vat and delivery!
What if the Turbo Electronic Actuator is damaged?
We can recondition many Turbo Electronic Actuators to "as new" condition, overcoming 90% of possible faults. If we cannot repair your unit, we dont charge... simple!
We can reconditon Garrett Electronic Actuators, including replacement Motor and Gear, replacement Actuator Worm Gear and also Circuit Board Repairs. To ensure a quality repair to your actuator we use:
Genuine Johnson replacement Motor (original replacement)
High quality plastic replacement Worm Gear (original strength to ensure reliability)
The cost of a recondition to a Turbocharger Electronic Actuator starts from £125 and includes VAT and return delivery. Turnaround time can vary depending on the fault, but all actuators are ready to return within 10 working days.
We also are increasing our range of exchange Turbo Electronic Actuators which are on the shelf ready to go on an exchange basis. This will greatly reduce the timescales of turbo repairs and can get you back on the road in under 24 hours! Please enquire for availability and terms.
What Electronic Turbo Actuator units can we test?
We can currently test 95% of the current Turbo Electronic actuators in circulation, please see below...

Garrett Electronic Turbo Actuator G Numbers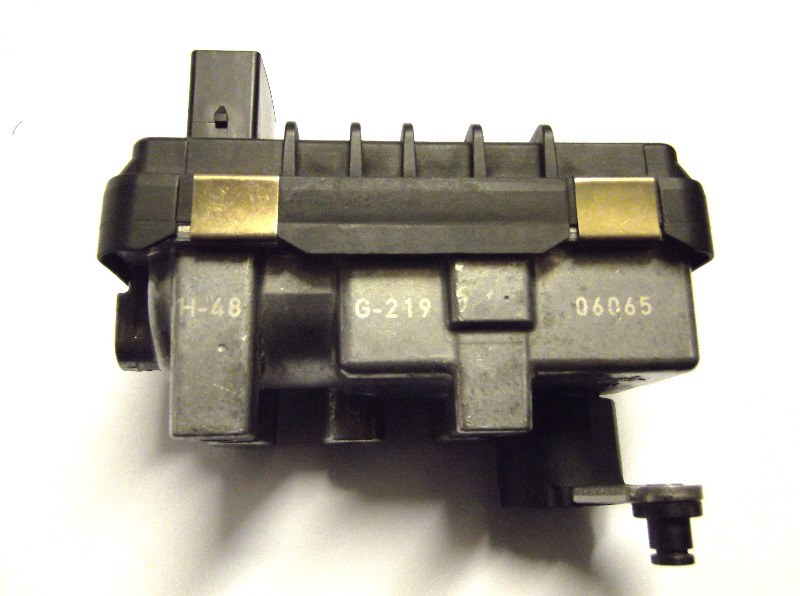 G numbers are situated on the the side of the alloy base on the Garrett Turbo Actuator

Supported Hella Electronics numbers:

712120 6NW 008 412
712120 6NW 009 206
712120 6NW 009 420
781751 6NW 009 660
763797 6NW 009 543
752406 6NW 009 206
730314 6NW 009 228
758353 6NW 009 228
761963 6NW 009 483
The Turbo Electronic Actuator on many of the Garrett Turbochargers are a Hella Universal Turbo Actuator of UTA:
Applications: variable nozzle turbine for diesel engines
HELLA sensor technology CIPOS® (Contactless Inductive Position Sensor)  
Intelligent electronics design (implemented control algorithm) 
PWM and CAN interface available
Worm gear system for reduced current consumption
Also available as standard version (PWM, analogue or SENT interface)
Various connecting elements (dimension and mounting angle)

To keep downtime to a minimum, we can supply a BRAND NEW replacement electonic actuator gearbox for your Garrett Hella equipped turbo. By simply removing the 6 retaining clips and removing the cover and fitting to your new gearbox, your electronic actuator is repaired and ready to get you back on the road!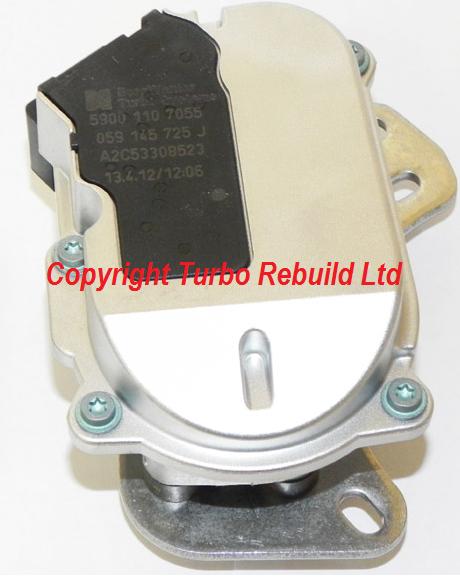 Siemens Turbo Electronic Actuators (used on KKK Borg warner units)
5304 970 0050
5900 110 7027
059 145 725

BV50 0054
5900 110 7032
059 145 725 E
5304 970 043
5900 110 7011
059 147 725
BV50 0055
5900 110 7055
059 145 725 J

5304 970 0035
5900 110 7027
059 145 725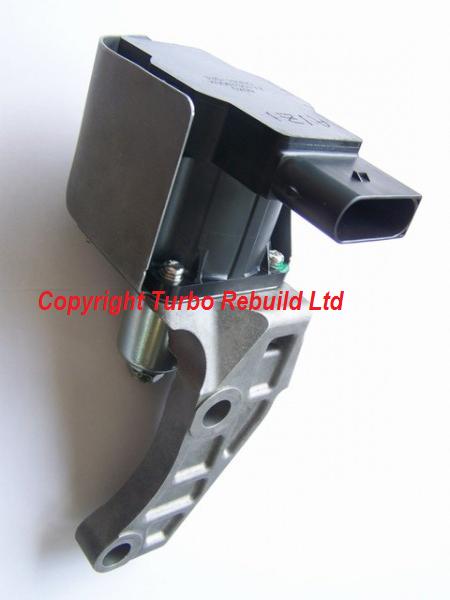 Garrett Electronic Turbo Actuator G Numbers
49135-05895
49135-05885
49135-05860
49135-05850
49135-05840
49135-05830
49135-05760
49135-05880
49135-05630
49135-05671
49135-05670
49135-05651
49135-05650
49135-05641
49135-05640
49135-05620
49135-05610
49335-00440
49335-00230
49335-00220
49490-93501mm
PLEASE NOTE: ALL ACTUATORS EXCEPT THE GARRETT HELLA TYPE REQUIRE CALIBRATING TO YOUR ACTUAL UNIT TO ENSURE BOOST CONTROL IS ACCURATE AND THE VEHICLE IS KEPT IN SAFE PARAMETER. FOR THIS REASON, WE REQUIRE THE COMPLETE TURBOCHARGER AND ACTUATOR IN ORDER FOR US TO CALIBRATE THE ACTUATOR BACK TO YOUR UNIT!
How do I know if my Turbo Electronic Actuator is faulty?
The easiest way to diagnose a faulty Electronic Turbo Actuator is by plugging in fault-finding equipment into the cars OBD plug. However, this fault-finding equipment isn't always required and in some cases is known to give incorrect answers, so a manual test can be undertaken.
Locate the Turbocharger and the Electronic Turbo Actuator
Monitor the arm of the Turbo Electonic Actuator as the vehicle engine starts. The arm should move freely to close the VNT mechanism
Gently rev the engine again whilst watching the Electronic Turbo Actuator arm linkage. The arm should move as the engines RPM rises and drops
If the Turbo Actuator linkage does not move during this test, then we need to confirm if the VNT mechanism is jammed preventing the Electronic Turbo Actuator linkage arm from moving or if is a faulty Electronic Turbo Actuator.
With the the Borg Warner Actuators,and Mitsubishi Electronic Turbo Actuators, the turbo arm linkage can be moved by hand (ensure the vehicle ignition is turned off). Ensuring that the arm travels over the whole operating range without jamming will rule out the Nozzle Ring or VNT are not jammed. On the Garrett Hella Electronic Turbo Actuator, you need to remove a circlip connecting the linkage to the Electronic Turbo Actuator. With the linkage removed from the Turbo Electronic Actuator, move the linkage to open and close the VNT or Nozzle Ring to ensure it operates over its whole working range without sticking. This will rule out the VNT.
By ruling out the Turbo VNT/Nozzle ring sticking we can narrow down the issue to a possible faulty Turbo Electronic Actuator or the Actuator being out of calibration.
Typical fault codes shown on diagnostic equipment pointing towards a faulty Electronic Turbo Actuator include.
P132A
P132B
P139A
P1952
P1953
P2263
These Engine fault codes have been known to point to a faulty Turbo more importantly a faulty Turbo Actuator, but this always isnt the case and testing and further inspection is advised
If you need Turbo Electronic Actuator Parts like Motors and Worm Gear