Add To Your Wishlist
Enhanced Turbo Audi/Seat TT Cupra R S3 1.8 20V K04 360 BHP Upgraded Hybrid Billet Upgrade Turbocharger (ET-K360) K04-023 K04-020/022
---
Buy in the next
for estimated delivery on
---
$0.00 exc. VAT
$793.37 exc. VAT
---
Sorry we're out of stock!
We can let you know when it's available again, just enter your email address below.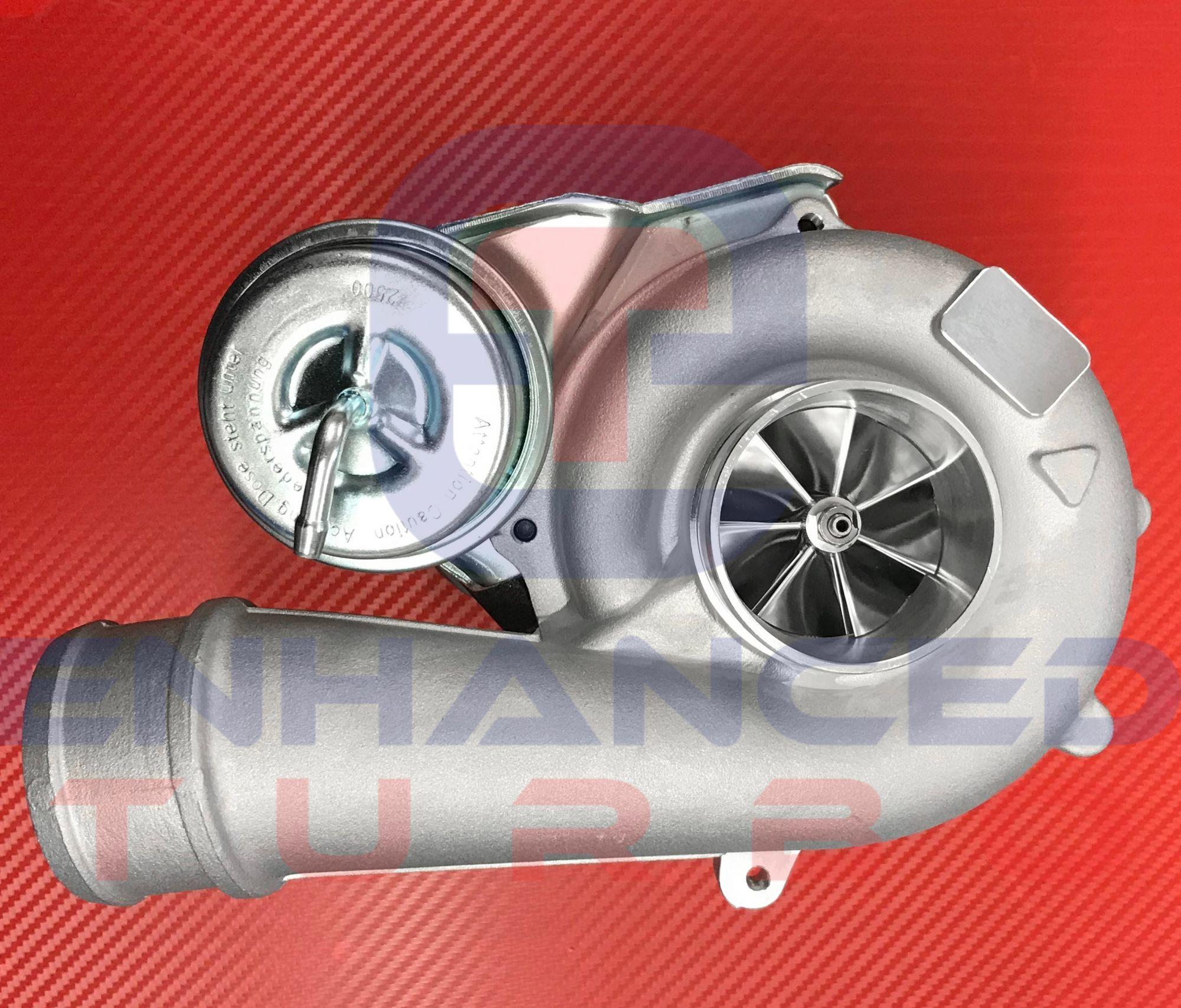 Enhanced Turbo Audi/Seat TT Cupra R S3 1.8 20V K04 360 BHP Upgraded Hybrid Billet Upgrade Turbocharger (ET-K360) K04-023 K04-020/022
Description

The 1.8l 20V Turbocharged VAG engine is a cracker. With 210/225HP on tap, this engine gives great power and drivability.

Our K360 Hybrid Turbocharger has been designed to enhance the original turbo design, increasing power, torque whilst still retaining the fast spooling, punchy power of the OE turbocharger application. 360bhp was the target, and boy did we make it!

Sitting down with our Hybrid Turbo Design Team, and with the added input from a well respected tuner, we first chose the best possible compressor wheel to flow 360BHP. Once dimensions were decided upon, the wheel's blade configuration and blade design were next on the agenda. The result is a super lightweight performance billet compressor wheel which - with Increased Inducer Efficiency (IIE), Extended Exducer Technology (EET) and streamline hub - gives unparalleled flow for the wheel size. The 7/7 blade compressor configuration with differing splitter heights not only gives the flow, but also ensures surge is held back to allow maximum power even at low rpm.

We were determined to ensure the turbocharger's turbine side of the unit did not ruin the drivability of the car, or indeed hold the car back; the tall blades in a 9 blade configuration ensure this is the case. We increased the size whilst keeping it compact and, most importantly, in the original housing without resulting in dangerously thin walls from over-machining. We also clip the turbine wheel back to aid flow without destroying the spool and low down power. We also upgraded the wastegate port locking the sleeve to prevent movement (a common issue on this unit)

We wanted to ensure fitment was as near to a genuine original BorgWarner turbocharger as possible, so through the whole design process we constantly compared against the original, although to allow the airflow to be capable of our 360BHP requirement, we have had to produce housings with a larger intake, as such a larger intake pipe will be required on installation.

The turbocharger boost control is upgraded too. Our upgrade actuator is installed with an uprated, stronger spring which ensures fast spool and accurate boost control without boost creep or pre pressure opening.

As with all of our Enhanced Hybrid Turbochargers, the bearings are upgraded to our 360 hardened large pad race thrust bearing to ensure they are capable of sustaining the increased boost levels without affecting the hybrid turbocharger's reliability.

Being a hand built, bespoke hybrid turbocharger unit, produced and built in our UK production centre, our attention to detail passes not only though the assembly phase, but also onto the turbo balancing phase, where we balance our hybrid turbo upgrade units to motorsport tolerance, giving imbalance levels that are less than half of the level of the original. There are no production time limits, no hourly production quotas, just a technician with a love of turbochargers building a performance hybrid turbo unit that the best it can be! In tests, the most common feedback we get is this is, "The best turbo on the market for 360BHP".

If you have a 1.8 20V 210/225BHP then this Hybrid Turbo is perfect for a good daily driver with 360bhp on tap.

 

Applications

The Enhanced Turbo Hybrid K360 Turbocharger fits the following vehicles:

Audi S3 2000-2009 1.8L 20V (

TT 2000-  1.8L 20V (8N)

Seat Leon Cupra 1.8L 20V R 2003-2005

Engine Codes:

AMK, AMU, APY, AUL, APX, BAM, BFV

(NOTE - TURBINE HOUSINGS INCLUDE A PORT FOR EGT SENSOR TOGETHER WITH A BUNG IF NOT REQUIRED.

 

REPLACES OE TURBOCHARGERS:

5304-970-0023 53049700023 5304-980-0023 53049800023 5304-988-0023 53049880023 5304-998-0023 53049980023

5304-970-0020 53049700020 5304-980-0020 53049800020 5304-988-0020 53049880020 5304-998-0020 53049980020

5304-970-0022 53049700022 5304-980-0022 53049800020 5304-998-0022 53049880022 5304-998-0022 53049980022

 

OTHER REFERENCE NUMBERS:

06A145704P, 06A145704PX, 06A145704PV, 06A145704Q, 06A145704QX, 06A145704QV, 06A145704M, 06A145704MX, 06A145704MV, 06A145702

What does it take to make 360BHP?

We would love to say it's just the turbo, but it's the whole "package" of the turbo and other upgrades that sees the best results.

Turbo – Enhanced Turbo Hybrid 360BHP Turbocharger

Turbo Inlet pipe – Enlarged Turbo Elbow (54mm required)

Intercooler – Upgraded Intercooler (stage 3 spec)

Exhaust – Full High Flow 3" Turbo Back Exhaust

Exhaust Manifold – High Flow Exhaust Manifold

Air Filter- Upgraded Induction Kit

Boost Pipework – Upgraded Large Bore Boost Pipe Kit

Remap – A good quality map from a respected tuner.

NOTE: Engine work may be required and should be discussed with your chosen tuner

 

The above spec has seen multiple vehicles attain 360BHP without stressing the engine or turbo.